Dear readers, today we have an important announcement to make: we both finished our PhDs, so are now officially "doctors" ;).
But the important part is that we've teamed up with entrepreneurs Niall Murphy (founder of WiFi network The Cloud, acquired by BSkyB last year) and Andy Hobsbawm (founder of Online Magic, which later became Agency.com) to form a very cool venture called EVRYTHNG, that is working in the area of Web of Things! You bet! Dom has taken upon the role of Chief Technology Officer, while mine is Chief Product Officer. EVRYTHNG is funded by the awesome Atomico (Skype's Niklas Zennström investment fund), so Dom and I are super excited to be part of a commercial start-up in the WoT space.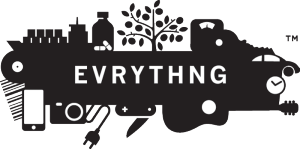 EVRYTHNG wants to organize the world's objects with an Active Digital Identity (ADI) for every thing. We have a vision of dynamic digital services and experiences connecting people and things where every product and other physical objects are part of the Web. EVRYTHNG's engine for Active Digital Identities provides technology, tools and services to create ADI profiles for products and other types of objects. We help manufacturers and developers create brilliant new services, apps and experiences that connect things with people.
Feel free to sign-up for our BETA program and browse through our developer resources to learn about our API. Of course, please let us know what you think.
As you might have noticed, our official domain name is now webofthings.org – we wanted to keep this place separate from a commercial .com space. If you like, it's our promise to you that we'll keep the Web of Things site separate and keep posting quality, independent material to keep enriching this community more than ever.
We see WoT evolving into a curated source of useful news about what we (and you!) think are the hottest innovations in WoT/IoT technologies for techies and thinkers, and with the support of EVRYTHNG we'll be able to setup more hackathons and workshops all around the world. In the longer term, we want to foster a strong global community of researchers, practitioners, and designers, and support open-source projects in that area.
We realize WoT has been online for around three years and we take this opportunity to thank you all for your trust, participation, help, suggestions, or simply readership. The day has come to rethink what it has been and where it should go. Therefore we'd really REALLY like your input on what comes next and what you'd love us to do. Send us an email or post a comment below. If you're lazy, we added a little poll on the right column on our page – we'd love to hear from you!!