Your favourite blog (i.e. this blog :-)) was selected as a media partner for the O'Reilly Solid Conference. Hence, I'll be covering the conference next week (May 21st to 22nd) and I'm very much looking forward to it!
In anticipation of attending, we thought we would give you guys an indication of what topics we're looking forward to discussing and discovering more about over the two days. On top of that we have attached some of the key presentations taking place that we believe will be particular highlights in the schedule, PLUS a bonus comp for you guys at the bottom! 😉
1) The Web of Things Classics Selection
Obviously, first we selected a number of talks that are directly related to topics that the Web of Things community cherishes. The classics you just shouldn't miss!
Starting with the basics we spotted:
2.55pm, Wednesday, IoT and RESTful Hardware – What We've Learned from Two Years Treating Motion as REST, Alden Hart, Synthetos  where you'll probably be able to meet other RESTifarians.
REST is great and we love it, but we also know that a big chunk of the IoT is sensor-driven and hence inherently event-driven. Hence the Web needs push! Along these lines I would suggest continuing with:
1.45pm, Wednesday, MQTT – standards-based plumbing for the Internet of Things with Sir Andy Piper himself, one of the greatest tech evangelist of MQTT as a one of the best candidates for an IoT push protocol.
To put what you've learnt in practice you'll certainly need a device. In a time where there is a new IoT device coming up every day on Kickstarter, going back to basics with the Arduino seems appropriate.
Who better than David Mellis (MIT Media Labs) (except perhaps from Massimo Banzi himself ) to speak about open-source IoT hardware 1.45pm, Thrusday, Open Source Hardware and The Digital Fabrication of Electronic Devices 
Putting it together with a hint of Zigbee and Smart Gateways you will surely enjoy: 2.35pm, Wednesday, Lessons Learned Building the Hue Cloud, Korjan Wieringen, Q42 (make sure you check out our very own Hue projects)!
Good, now that we have the basics in place, have connected to the Web, we'll need to make something out of it. As big fans and early inventors of physical mashups we would not miss Nick O'Leary 3.45pm, Thursday, Wiring the Internet of Things with Node-RED, a physical mashup tool along the lines of what we proposed back in 2010 with WoT-a-Mashup but with a community that is getting larger and larger!
Finally, don't miss meeting Prof. Neil Gershenfeld, a pioneer in the IoT world (remember the Internet 0! (see here) and his discussion, 10.10am, Thursday, The Third Digital Revolution
Not enough yet? Well let's open our mind a bit, beyond the Web of Things and look at a selection of other exciting topics:
2) When the "World of Things" becomes the "Internet of Things"
In this topic we are given an initial introduction in to the capabilities of connecting objects to the web. Some of the leading industry players will be providing real life contexts and examples of how objects can function at an intelligent level, providing much more value to the end user. Be sure to check out these talks on the topic.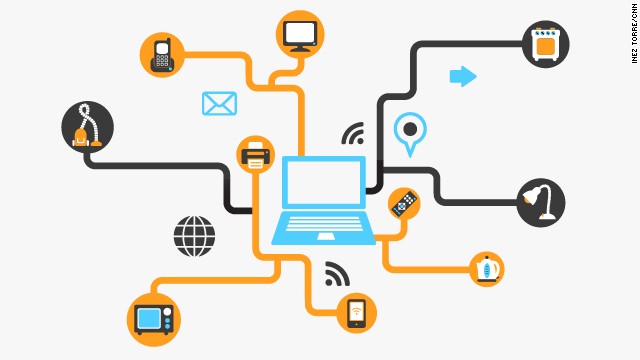 Wednesday
11.15am, Beyond Gadgets: Interactive Everything, Ivan Poupyrev, Google
1.45pm, A Lamppost Is A Thing Too, Tom Armitage
2.55pm, Designing Automatic: Combine Equal Parts Hardware, Software, and Cloud, then Stir, Ljuba Milijkovic, Automatic Labs
4.50pm, Intelligent Connectivity. It's What's Next. Laurie Yoler, Qualcomm Technologies Inc.
3) Â IoT: The Opportunities and Threats for Business
Once at O'Reilly Solid, many of the talks are going to be centered around how to best exploit the opportunities that are available to businesses, whilst avoiding those unnecessary challenges along the way. Here are some of the more interesting presentations that will take place in this area.
Wednesday
2.05pm, Beyond the Early Adopter, When IoT Cracks Mainstream, Alex Hawkinson, SmartThings
Thursday
9.40am, Unleash the Potential of the Internet of Things through Intelligent Systems, Steve Teixeira, Microsoft
3.25pm, Giving Factories a Voice in the Age of the Industrial Internet, Joseph Salvo, GE Global Research
5.40pm, Emerging Markets and the IoT: Why Devices Designed for High-Income Countries Don't Work and What to Do About It, Timothy Prestero, Design that Matters
4) The Baffling Big Data Questions?
As we connect more and more devices to the internet, the industry needs to start asking some critical questions around the security and management of data. Here are some of the talks in this area that we think you'll find of particular interest.
Wednesday
2.35pm, Data Vehicles for Open Mobility in Cities, Kamal Farah, MIT Media Lab
Thursday
3.45pm, Your Thing is pwnd – Security Challenges for IoT, Paul Freemantle, WSO2
6.00pm, The internet of Things Democracy, Yodit Stanton, Opensensors.io
5) Good UX Will Drive Forward Adoption of the IoT
As an increasing barrier to adoption, serious consideration needs to be given to how user experience can inhibit usage of IoT enabled devices. In this topic speakers will discuss what the key challenges are and how we can attempt to overcome them. Check out these talks for a more insightful perspective.
Wednesday
2.35pm, G28 Machine UX, You're Drunk, Mike Estee, Other Machine Co
3.25pm, Bringing to Life Wearable Ideas and Rapid Prototyping using Arduino, Moe Tanabian, Samsung Mobile
Thursday
11.45am, Building for Resilience, Abe Gong, Jawbone
2.35pm, Beyond the Screen: Humans as Input-Output Devices, Kelsey Breseman, Technical Machine
Bonus Round: The Big Idea Presentations
Wednesday
9.20am, Keynote with Rodney Brooks, Rethink Robotics
5.40pm, Life: Sustainable Programmable Bottom-up Manufacturing, Andrew Hessel, Autodesk Inc.
Thursday
2.05pm, Aging in Place: How the IoT Can Bring the Mountain of Social Connectedness to a Massive, Growing Market of Elderly Users, Thomas Brady, Reaction Inc.
And finally… the cherry on top! 😉
Let's not stop at providing you with an exciting program, let's also make sure you can attend it! Webofthings.org is giving away a pass to attend the Solid Conference*! Interested? The only thing you need to do is send a tweet containing 1) the hashtag #SolidWOT, 2) a mention of @webofthings, and 3) linking to your own WoT project/prototype. We'll then collect all the tweets and select our favourite! Warning: we will only select the projects that respect the core principles of the Web of Things (i.e. the use of open Web protocols, see also here). *Solid Conference Pass only, not including travel and accomodation
Good luck and see you at Solid!