Last week we attended the Sketching In Hardware event, a 3-day workshop in Berlin that explored the perceived boundaries of the tech industry, and worked towards figuring out ways to overcome those challenges.
It was a great opportunity to take the pulse of the hardware prototyping community, and answer key questions like: What are the hottest devices, platforms, or tools in the community? What are the coolest use cases for the Internet of Things? What are the newest trends that are shaking up the tech industry?
After full immersion in this thriving environment of thinkers and innovators, four key trends that are shaping the direction of the tech industry clearly stood out:
1) The rise of the amateur manufacturer
By now, it's clear that 3D printers are not just a trend, they have turned into an essential tool that both professional and amateur product designers alike use to rapidly prototype physical objects: or, even to mass-produce very specific tools. As 3D printers are becoming more reliable, accurate, and fast, they now become a viable alternative to existing "production-grade" manufacturing methods within various industries.
Look at the bio-medical companies capable of printing bespoke aortas for actual patients, at a fraction of the cost and time, and you see the far-reaching implications of this technology.
In the industrial space, we're experiencing exponential progress in printed electronics, like circuits, capacitors and sensors. Effectively, this could mean we're not far from a world where we wouldn't need to queue for the iPhone 10*, we could buy the design online, and print it ourselves!
2) The rise of the device-platform package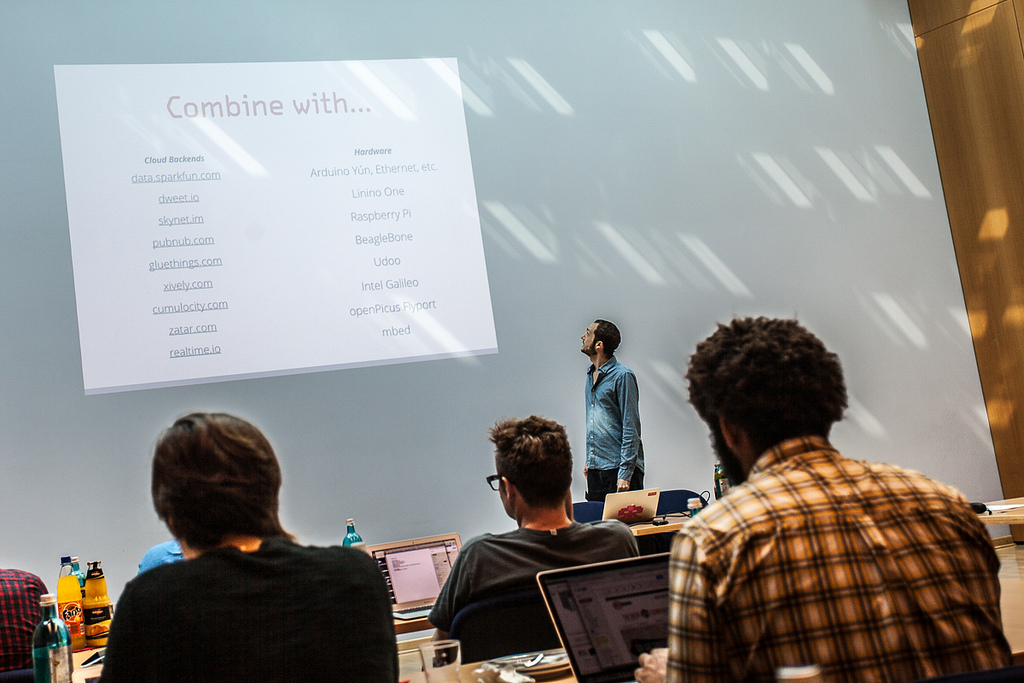 As my colleagues and I attend more and more of these pioneering events, we've observed that device manufacturers are increasingly offering a combined package that integrates both the hardware and a cloud development environment (software).
In the past, you'd have to buy a device, pick up a software platform to hold your data, and then integrate the two yourself. This is very time-consuming, which led to companies such as spark.io, relayr, or electricimp offering a plug and play solution: providing both the device and the cloud platform solution.
It works like this:
1. Buy a device and connect it to the internet.
2. Go on the device cloud platform which has an embedded code editor.
3. Program your application in the browser and flash it directly to your device.
4. The device now speaks with the cloud platform, and you can easily reuse that data in any app.
The obvious advantage for developers is the ability to not worry about the basics like programming the device and getting it to the cloud platform; instead, they can simply focus on building apps. It's a huge enabler for the Web of Things, and we've been working hard on this problem for years, so watch this space!
3) The rise of Web on Devices
This is something I'm personally really excited about, because it shows me how much closer we are to realising that the Web of Things has become a reality! Many of the speakers at the event spoke of moving to more powerful embedded platforms that can run Linux in their prototyping. This would mean that a smart device has actual Web functionality and an application layer to be built upon.
What this means for IoT is that you can build and deploy node.js, and other software applications that directly run on devices, in essence making that product truly smart. A few examples of this would be the Intel Galileo board; Raspberry Pi; or Kinoma, who have launched an embedded platform, to program very cool prototypes directly with Javascript.
4) The rise of prototyping tools
Although prototypers don't mind getting their hands dirty (or getting burned by soldering resistors on PCBs!) there's a limit to how much time can be spent on the details, rather than on building the actual prototype. Projects like Arduino have significantly lowered the effort needed to program a device; nevertheless we're still far from a world where anyone (literally) can interact with products.
However, the IFTTT or node-reds of the world are making it much easier for everyday users to build applications with no programming knowledge, simply by creating high-level rules or by moving boxes and connections in drag-and-drop interfaces. The easier it becomes to build interactive applications with minimal effort, the more people will start doing it. It's great news for my colleagues and me in the EVYRTHNG team, as we're committed to making it easier for everyone to access data and digital services about the products they own, or want to buy.